It's another "Five Things" day! Here's a handful of what's been going on in my little corner of the world...
1. A Law School Perspective
My friend Marissa, a law student at another school in Texas, recently wrote a brutally honest post about what makes law school such a beast. Y'all always hear about law school in my words, but her words are a little different (and also totally true).
Here's her post
.
2. Springtime in the Front Yard
The front yard is looking so springtimey and adorable these days. Check out our little gardenia bush:
Four blooms at once!
Remember when
we planted the yellow lantana
shortly after moving into the house? That was last summer. Right after we planted them around the trees, they looked like this:
Now, they look like this:
What a difference a year makes, huh? I just love watching our plants grow!
3. Staybrite Cupcake Liners
Have y'all heard of these? They're cute cupcake papers that actually keep their bright colors when you bake them! They're a little more expensive, but they look SO much better! They have a foil lining on the inside that protects the paper part, plus the foil inside makes it SO easy to unwrap the cupcakes. It just comes right off!
I found them at Kroger, but I'm sure they're other places too. Look how pretty they were on my lemon blueberry yogurt muffins!
I'm so glad I found these. They've changed my life... the cupcake-baking portion of my life at least. :)
4. Sales Tax on Amazon?!
So apparently, we Texans are going to have to pay sales tax on Amazon.com purchases starting this summer. Amazon went and built a warehouse somewhere in Texas, and apparently the government was all umm, if you're operating in our state then you have to pay us sales tax, and then there was a big legal battle which I totally didn't follow because I was too busy studying other legal things (and you know, when I do have free time, the last thing I want to do is read about a legal dispute), and now we're all gonna have to pay sales tax on Amazon purchases.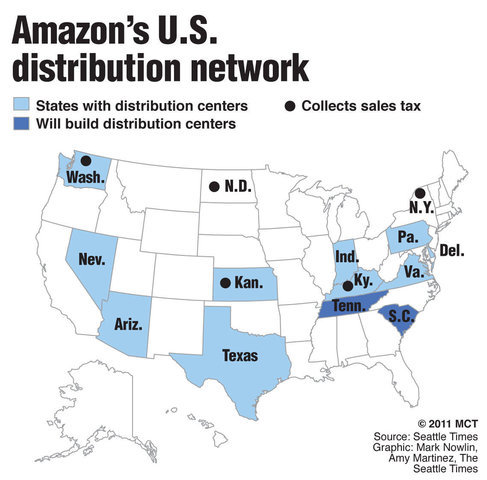 I am severely unhappy about this. I used to save a lot of money by purchasing things like cameras and vacuums off of Amazon tax-free. Now I'm going to have to find other online retailers or something. Anyway, just venting. Hey Amazon, if you're reading this - get that warehouse out of Texas and let us shop tax free again! Apparently this is happening in Kansas and New York and a couple other states already, so I guess I shouldn't complain. But I really liked saving that 8.25%.
5. The Craft Room: And So It Begins...
I stumbled upon a Craigslist deal a couple weeks go that we couldn't pass up. We were planning on buying some of Ikea's Liatorp collection this summer with some of my summer associate salary, but when you can save $300, avoid Ikea assembly, and still get furniture that looks brand new, you go ahead and just buy it rightnowthisinstant.
So we got the Liatorp desk and coffee table! I was so happy to finally get a desk in the craft room! Seriously, I kind of teared up after I set up my sewing machine and everything. I just stepped back and looked at it and had this moment of oh my gosh, I've wanted this since I was a little girl and now I have it! Is that ridiculous that I've wanted a craft room since I was a kid? My sewing machine was a Christmas present when I was in middle school, and now - almost a decade later, I finally have a proper place to put it. It just makes me so happy! Haha.
Anyway, Here's what the craft room looks like right now:
(excuse the horrible cell phone photo)
The "new" furniture has me even more excited to paint, refinish the antique chairs, hang stuff on the walls, and get the rest of the furniture on our list. Plus, now I have an extra $300 to spend, right? ;o)
So... have you been looking your entire life for cupcake liners that keep their color? What about childhood dreams of craft rooms? Surely I'm not the only one...