Hello!
Can you believe I haven't blogged anything in over a week? Let's blame it on a) moving into the house, b) starting my summer internship, c) celebrating my birthday, and d) summer fun at the lake and such. It's kind of great when life is so full of fun things that you don't have time to blog!
But don't worry... I'll catch you up on all the recent happenings!
As for the internship, I'm working for a judge at a court here in Houston and it's wonderful and I love it and everyone is so nice and it's just perfect and I want to just stay there forever and never ever go back to school. Getting home in the evening and having ALL night to just hang out and not study for school is just amazing. I'm even getting used to wearing a suit every day!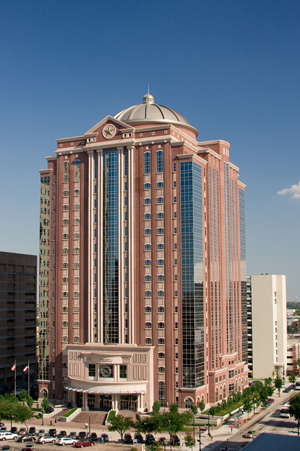 This is where I work. Isn't it fancy?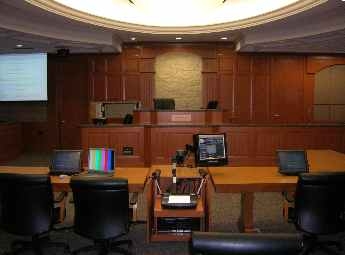 This is what our courtroom looks like!
As for the birthday, I got confused and thought I was already 22, so I thought I had turned 23. It turns out I was only 21, so now it just kind of feels like I never turned older (since I already thought I was 22 and all). Oops. BUT... I had a wonderful day! My mom came into town and spent the morning shopping with me at lots of fun home decor/antique stores, and then we had a lovely lunch at Corner Bakery.
After Mom left I went to a fabric store I had heard great things about (Glick's Fabric Warehouse, for all you Houstonians) and grabbed some samples for a few things I'm working on for the new house. Glick's has a bunch of sample cuts pinned onto each roll, so you can just grab one of whatever you like! I went just a
bit
overboard:
Tan swatches
Black & cream swatches
When Jeff came home from work we went out to dinner at one of my favorite restaurants, Amazon Grill. YUM. We were planning on getting dessert, but we were both just so full that it didn't happen! Haha. We did have a coconut cream pie at my parents' house a while ago as a joint celebration of my birthday and Jeff's birthday, so it's not like we missed out on the whole cake-and-candles thing. :)
My day was full of phone calls from family and friends, and I got some great gifts as well! A Coach wristlet and a cute return address stamp with the new house address (I was SO excited!) from Jeff, a couple Friends DVDs from my sister (I now have 6 of the 10 seasons!), a cute summer dress from my parents, some money from my grandparents and great aunt (hello, new house purchases!), a handmade purse from Jeff's grandparents (sewn by Grandma!), and a Marshalls HomeGoods gift card from Jeff's parents! I'm a lucky girl!! If only I could find which box I packed my thank-you notes in...
As for the moving... here's what our apartment currently looks like:
We actually moved the TVs yesterday, so even that's gone now!
Boxes everywhere!
The pantry has been emptied on to the counter so we're more likely to eat it all before we leave... haha!
It's getting a bit inconvenient to be living with half our stuff at the apartment and half at the house, so we're going to go ahead and step up the pace on the moving so we can be living in the house by the end of the week (fingers crossed!). We've got another two weeks left on our lease, but we're ready to just live in that pretty house already!
Speaking of the new house, here's another thing that just makes me fall totally in love with it:
A cabinet full of red appliances under the island!!!
I'm so excited to have my appliances in an easily accessible, convenient, organized space. I just love it. After a year of asking Jeff to get my mixer down from the top of the fridge, this cabinet is MUCH appreciated.
We're happy little homeowners!
Wish me luck on finishing up the moving process!