I'm on a lemon kick recently. If it has lemon zest in it, I will bake it excitedly. I think it has something to do with my new Martha Stewart grating set: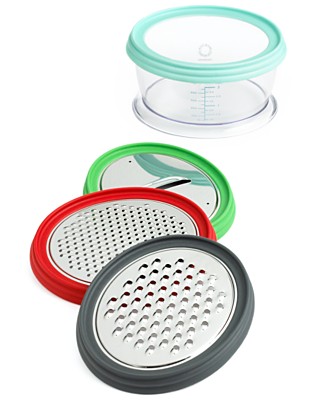 If you're engaged, put this on your registry NOW! You'll thank me later when you're collecting lemon zest in your cute little plastic container.
When I saw the recipe for these on
my friend Marissa's blog
, I knew I had to get out my graters again. These are so cute, and so easy to make! I give this recipe five stars. :)
(adapted from Marissa's recipe)
1 tablespoon of butter, melted and cooled
3 tablespoons lemon juice
Tart Shells
: Beat butter and sugar until fluffy. Blend in egg white. Add flour and mix until blended.
Spray a mini muffin pan with cooking spray, and divide the dough up into 24 pieces and press into mini muffin shells.
Tart Filling
: Whisk the eggs, then whisk in rest of the ingredients. Spoon filling into tart shells.
Bake 20(ish) minutes until light golden brown. Let tarts sit i
n the pan for a few minutes, and then remove to a wire rack.
Store in the fridge. Remove from fridge 10ish minutes before serving (or else the shells will be a little hard).
I liked them, Jeff liked them, and a dozen or so of my fellow law students liked them. I even ate a few for breakfast one day!