So it's a Monday. Sigh.
BUT... it's kind of an exciting Monday because it's the first birthday of Spirals & Spatulas! Happy Birthday little blog. Thanks for aiding me in countless procrastination endeavors, providing a neat little space for wedding inspiration, introducing me to new friends, and teaching this English major a thing or two about writing. You're the best.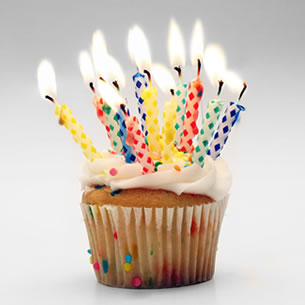 Here you go, Spirals & Spatulas! Have a birthday cupcake!
I thought it would be appropriate on my very first blogging anniversary (blogiversary?) to look back on a few of my favorite posts. Many of my readers weren't around when it all started, so these will be
brand new
to some of you!
I Saw Pac Man Today!!!
- One of the million thousand reasons I love Texas A&M University.
There Was a Question, and He Popped It!
! - In which I take the LSAT and get engaged all on the same day!
How Bacterial Sinus Infections Remind You What Love Is
- Me at my worst. And Jeff at his best.
Here's to Weddings That Aren't "Cool"
- One of my favorite wedding planning posts.
My Newest Wedding Vendor - The Dermatologist!
- Don't read this if you get queasy easily.
"Look What I Made!" - Place Card Display
- My favorite wedding DIY project!
Oh, and in case you're wondering what's coming up...
This week at Spirals & Spatulas...
~ Join me as I chronicle my attempts at making
homemade bread
for the very first time. With yeast and everything!
~ After some strategic placement of orange candles, a shameless acceptance of the fall decorations my mom was going to throw out, and a shopping spree at Marshalls Home Goods,
the apartment is decorated for fall!
Pictures to come!
~ Still waiting on my DVD of pro pics from the wedding, but I've seen a lot of the photos, and eeee! The
Wedding Week Recaps
are coming!
PS - Want some new readers for your blog? Head on over to
Mingle Monday
!